Delivery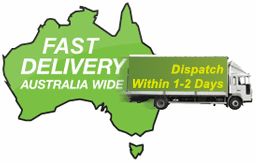 To work out the shipping cost, just add the product to the shopping cart, enter your postcode and click on the Calculate Shipping button.
Your order will be dispatched in 1-2 days (excluding weekend and public holiday).*

*Please note: Dispatch 1-2 days hours does not mean it will be delivered within in 1-2 days. It means we will have your item onto the courier's truck in 1-2 days after purchase.
After dispatch, our customer service team will email you the tracking number to track your delivery online.

Free transit insurance – lost or damaged item will be replaced within 48 hours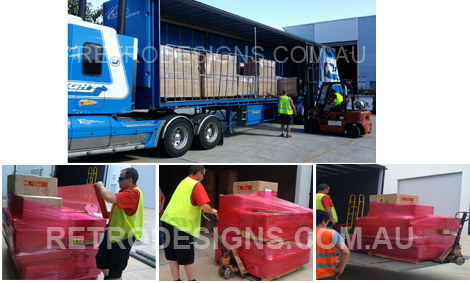 "Just wanted to compliment you on the wonderfully fast delivery service - couldn't have asked for better. Also, am extremely pleased with the table I purchased."
Joycee B. Calala NSW

"I am writing to thank you for your excellent service and quality on a coffee table that I ordered from you. The transaction from order, payment to delivery could not be faulted. We live in a rural area in Victoria and the delivery driver was fabulous with his communication and manner. A pleasure to deal with you. Kind regards, Cathy"
Cathy Booker QLD

"One of the best purchases on the internet for us. Excellent quality and heaps fast delivery. Thank you Retro Designs!"
Graham S. VIC

Delivery FAQ

Can I track the delivery of my order?
Yes, you will be issued with an email containing your consignment number and tracking details on the same day your item is dispatched.

Can I delay my order delivery time?
Yes you can place an order now and we can hold the stock up to 3 months. To arrange this you can call us on 1300 800 730 or place the order online as per normal then put a delivery note during checkout.

What happens to damage in transit?
We offer FREE transit insurance so if there's an issue we will send you a replacement. Our warranty department normally dispatches replacements within 7 days. Your replacement item also covered with transit insurance.

Where is my order dispatched from?
Orders are dispatched from our warehouses in Wetherill Park, NSW

Can I do local pick up?
Yes, you can pick up from our warehouse at Wetherill Park NSW. Please call 1300 899 511 to place a pick up order, then bring your receipt for collection at our warehouse.

How does the furniture package?
Bulky furniture are packaged in a carton box and wooden crate for protection during delivery

Delivery Of Your Products

Estimated delivery time is a guide from our courier partners/companies only. Retro Designs Direct makes every effort to deliver your product according to the delivery time provided by our courier partners/companies. We can help you put a request for a specific delivery date and time but we cannot guarantee any delivery date and time as any delivery is up to the courier. Please have someone at home to accept your product, otherwise a re-delivery fee may incur up to the full delivery cost you paid.

The furniture is delivered by one man only, please have someone to help the driver unloading. If you are unable to help the driver, please contact us for any available special delivery arrangement. Delivery will be to the front door only by the courier company.