Refund & Returns


100% Satisfaction Guaranteed
If you're not happy - we're not happy!
14 Days Money BackGuarantee
No hidden costs (no re-stocking or admin charges)
Free Return - No cost to you (we will supply you with a return shipping label)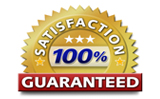 Change your mind? Returns are gladly accepted within 14 days of purchase - No Fuss!

Free Returns - We offer unconditional 100% money back guarantee on all purchases within 14 days. You will receive the full refund of your item excluding your delivery cost back to you. We will pay for the return freight, so it is risk free when shopping with us.

The return product must be in the same condition and packaging as when they were shipped.
How to return your item:
1. Contact us via email at info@retrodesigns.com.au or telephone on 1300 800 730.
2. The customer service representative will arrange a return label and pick up time with you
3. As soon as the return has been received, a refund will be issued.
Exchanges - We will pay for the return shipping and customer will only need to pay for redelivery cost when you exchange your product. Product must be in the same new condition and undamaged.
If you have any questions please feel free to us.