Guarantee & Warranty


100% Satisfaction Guarantee
If you're not happy - we're not happy!
14 Days Money BackGuarantee
No hidden costs (no re-stocking or admin charges)
Free Return - No cost to you (we will supply you with a return shipping label)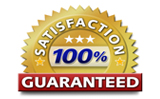 Change your mind? Returns are gladly accepted within 14 days of purchase - No Fuss!

Free Returns - We offer unconditional 100% money back guarantee on all purchases within 14 days. You will receive the full refund of your item back to you. We will pay for the return freight, so it is risk free when shopping with us.

Lowest Price Guarantee

If you find an item elsewhere before or within 7 days of your purchase for a lower price, we will not just match it but refund you 5% the difference of your purchase.

Here's how it works:

The item must be new and an indentical product of the same size, colour, material, and of similar quality. The price you wish us to match must be verifiable on the internet.

Competitor's coupons or promotions for first time or one time use will not be considered as verifiable and therefore cannot be accepted for the low price guarantee.

The competitor's advertisement must be current and product must be in stock, and verifiable on the internet.

Price won at any auction cannot be accepted for the low price guarantee.

For us to match the item the competitor must be a valid business with ABN, as we do not match with private sellers.

For us to match your item, the competitor's shipping and handling charges, sales tax, transit insurance and warranty term, if applicable, will be included as part of the total price.

Retro Designs reserves the right to deny any price match on an item that is not in stock with a competitor or does not meet the criteria of our price match policy.
Warranty & Insurance
We offer free transit insurance on lost or damaged item during delivery and your replacement item be it part or whole will be dispatched within 48 hours after confirmation of lost or damage.
Retro Designs Direct Warranty is offered in addition to the guarantees provided under Australian Consumer Law. You are entitled to a replacement or refund for a major failure and compensation for any other reasonably foreseeable loss or damage. You are also entitled to have the goods repaired or replaced if the goods fail to be of acceptable quality and the failure does not amount to a major failure.
We offer 1 year warranty where products are used in domestic environment. Products used in commercial environment are covered by 3 months warranty only. This warranty covers defects in manufacture and materials, but specifically excludes:
(a) Damage caused to the product due to abuse or lack of proper maintenance
(b) Normal wear and tear of the product